Home
GlycoDigest
Contact
GlycoDigest
GlycoDigest simulates exoglycosidase digestion, based on controlled rules acquired from expert knowledge and experimental evidence available in GlycoBase. The tool takes advantage of the properties of GlycoCT which is the selected format for text input. Alternatively, a glycan structure can be drawn in the GlycanBuilder interface and submitted to GlycoDigest. The user can select one or more enzymes to perform digestion. This tool can help validate and improve the efficiency and accuracy of glycan analysis. This resource complies with the recommendations of the SNFG nomenclature for the representation of glycans.
Exoglycosidase Information
For a detailed description of how to prepare and design exoglycosidases experiments refer to 'Detailed Structural Analysis of N-Glycans Released From Glycoproteins in SDS-PAGE Gel Bands Using HPLC Combined With Exoglycosidase Array Digestions' by Louise Royle, Catherine M. Radcliffe, Raymond A. Dwek, and Pauline M. Rudd (Methods in Molecular Biology)
Liaqat Ali et al., have published guidelines for using exoglycosidases to structurally characterise O-links using LC-MS/MS 'Structural Identification of O-Linked Oligosaccharides Using Exoglycosidases and MSn Together with UniCarb-DB Fragment Spectra Comparison' (Metabolites)
To guide researchers we have put together a couple of exoglycosidase examples and provided a pictorial representation of the most commonly used enzymes. To ensure that exoglycosidases are active IgG or Fetuin are common standards - we have uploaded example LC-MS IgG data and 2-AB HPLC IgG can be access in the above Methods Chapter.
Downloads
An alternative to using GlycoDigest Web Interface, is a standalone version that can be downloaded from the link below.
Download GlycoDigest Standalone
In order to run Glycodigest standalone, Java must be installed on your computer.
To start the tool, open a new system console and type the command:
    java -jar  file_path/file_name.jar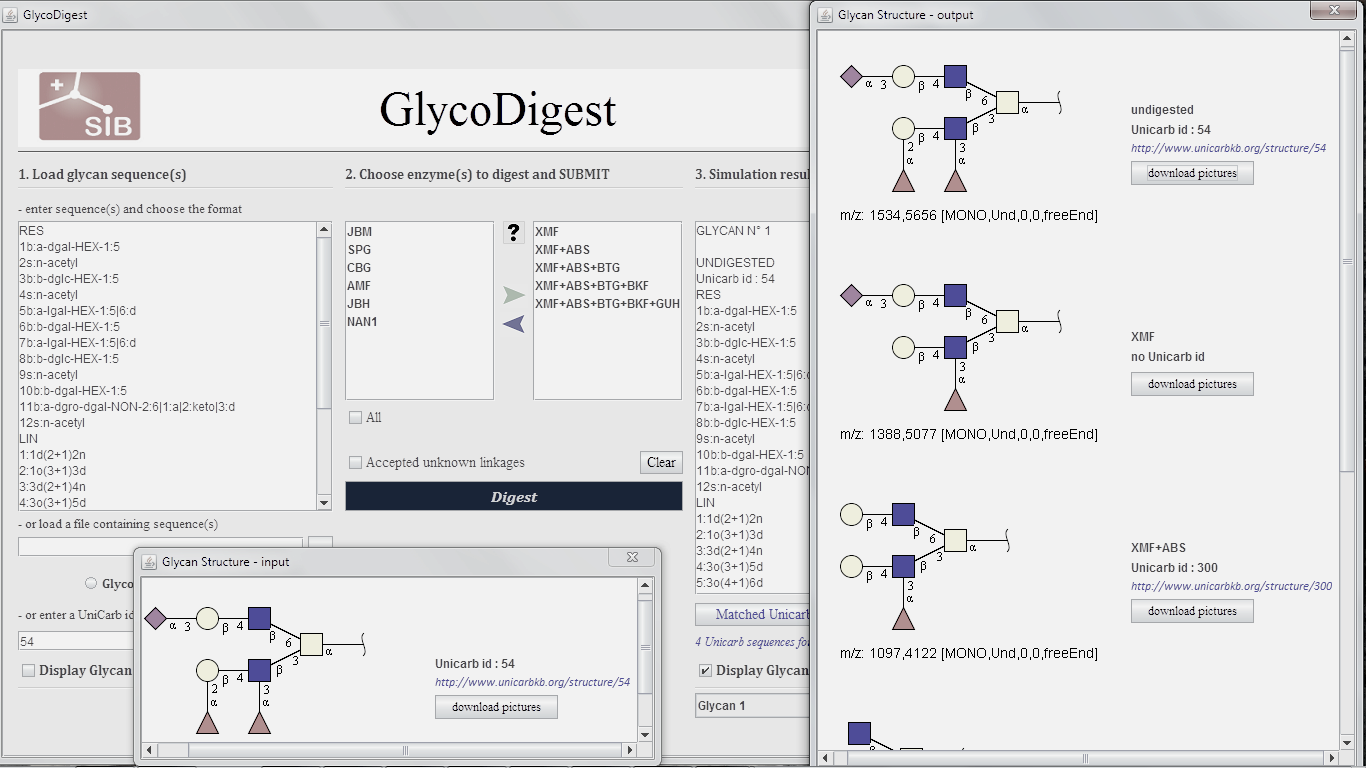 References
GlycoDigest: a tool for the targeted use of exoglycosidase digestions in glycan structure determination. Gotz L et al, Bioinformatics. 2014 (PubMed ID: 25015990)
The GlycanBuilder: a fast, intuitive and flexible software tool for building and displaying glycan structures, Ceroni A et al Source Code Biol Med. 2007. (PubMed ID: 17683623)
The GlycanBuilder and GlycoWorkbench glycoinformatics tools: updates and new developments, Damerell D et al, Biol Chem. 2012. (PubMed ID: 23109548 )